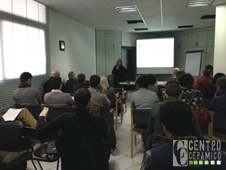 On Wednesday, May 13, 2015 the cycle of Ceramic Centre Seminars has been concluded. The main purpose of the seminars was to make the state-of-the-art about issues of great importance for the ceramics industry (Sustainability, International Standards, Safety and Surface Treatments, Innovation), and create a constructive synergy between scientific research and industry.
The meetings have achieved considerable interest, and the number of visitors has always been high, represented mostly by ceramic tile manufacturers of the District.
Thanks to the considerable results obtained, the Ceramic Centre is planning a new cycle of seminars for next year.