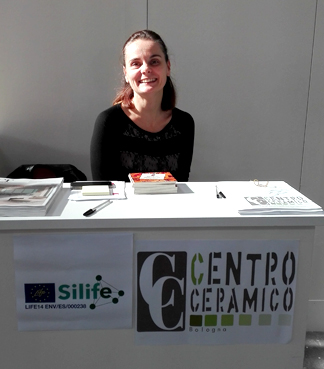 Centro Ceramico has led at SAIE 2016 Fair the EU Project SILIFE – "Production of Quartz Powders with Reduced Crystalline Silica Toxicity".
The main purpose of SILIFE is to reduce the impact on the health of workers deriving from exposure to crystalline silica.
The prospect is to replace the standard quartz powder with processed quartz powder, in order to obtain a material with decreased toxicity, but with the same technical performance.
Participation in this Fair is of particular importance, because SAIE includes, among the various areas, Session "Work Environment", the only Italian exhibition initiative dedicated to health and safety in the workplace.
On November 2 in Castellon (E), at ITC headquarters, the 1st Annual Meeting was held.
Dr. G. Bonvicini (Centro Ceramico) at SAIE 2016.